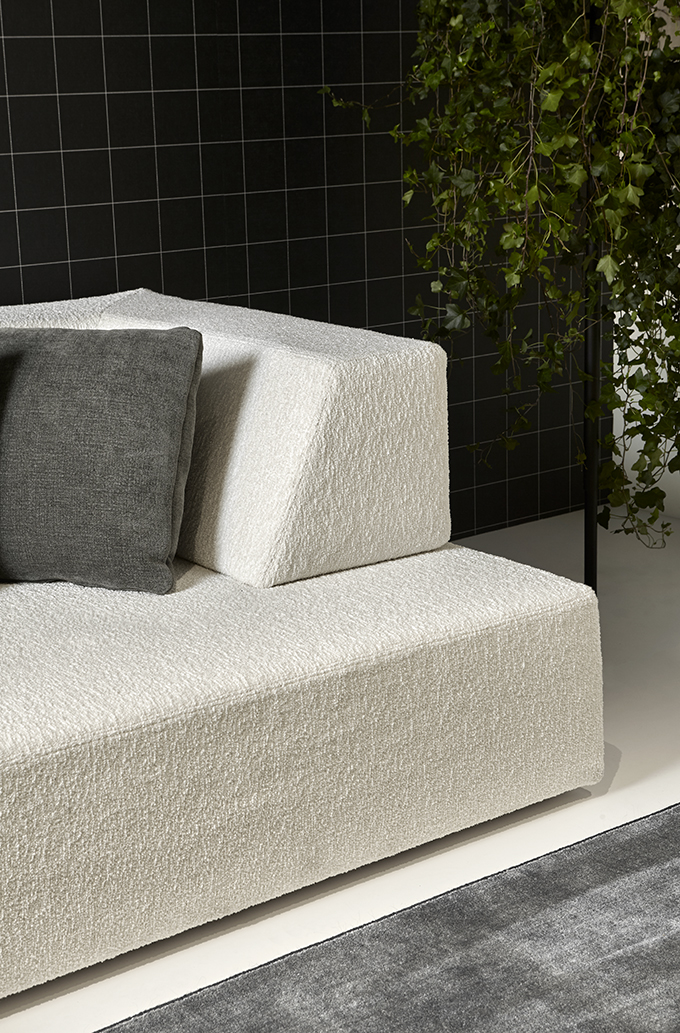 client
antoniolupi / 2023

Modularita', componibilita', assoluta liberta'. Un concept che nasce dal primitivo approccio al progetto, o meglio alla costruzione spontanea, che hanno i bambini quando accostano, sovrappongono, mettono in equilibrio cubetti o solidi geometrici seguendo solo istinto e fantasia. Come nelle idee piu' semplici e spesso vincenti, il sistema di imbottiti Teorema si riduce all'essenziale, a due figure geometriche che posizionate liberamente nello spazio danno luogo a infinite composizioni. Due soli elementi che danno origine a luoghi di relax che si possono scomporre e ricomporre a piacimento, spostare e ricollocare, traslare, ruotare, accoppiare.
...
Modularity, with absolute freedom. A concept that stems from the primitive approach to design, or rather spontaneous construction, that children have when they juxtapose, superimpose, balance cubes or geometric solids following only instinct and imagination. As in the simplest and often successful ideas, the Teorema upholstered furniture system is reduced to the essentials, to two geometric figures that placed freely in space give way to infinite compositions. Just two elements that give origin to places of relaxation that can be broken down and recomposed at will, moved and relocated, rotated or paired.
photo
Camilla Santini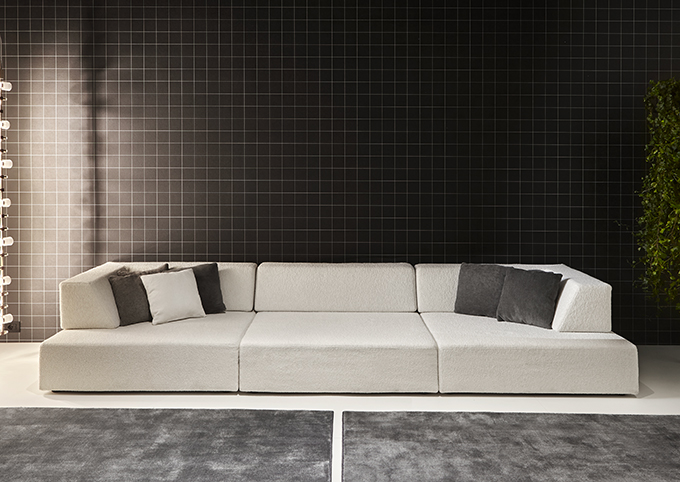 Tutto nasce dall'elemento cardine, l'unico imprescindibile, un pouff dalle forme squadrate sopra il quale si appoggiano schienali e braccioli zavorrati, che contengono cioe' un peso, opportunamente calibrato, che assicura la loro stabilita' e il mantenimento della posizione scelta. Non ci sono cerniere o sistemi di fissaggio, tutto e' libero e modificabile con un solo gesto. Le diverse misure dei pouff e la massima liberta' di riconfigurazione permettono di variare in ogni momento la forma del divano per adattarsi velocemente alle diverse esigenze quotidiane. Da luogo di relax assoluto, intimo e privato a isola di convivialita', da postazione lavorativa a spazio di rappresentanza, tutto in pochi attimi.
...
Everything stems from the pivotal element, the only unavoidable one, a pouff with squared shapes on top of which rest ballasted backrests and armrests, that is, which contain a weight, appropriately calibrated, that ensures their stability and the maintenance of the chosen position. There are no hinges or fastening systems; everything is free and changeable with a single gesture. The different sizes of the ottomans and maximum freedom of reconfiguration allow the shape of the sofa to vary at any time to quickly adapt to different daily needs. From a place of absolute, intimate and private relaxation to an island of conveniences, from workstation to statement space, all in a few moments.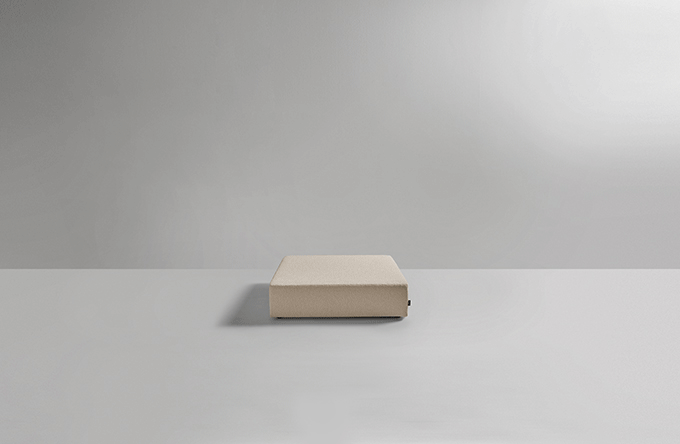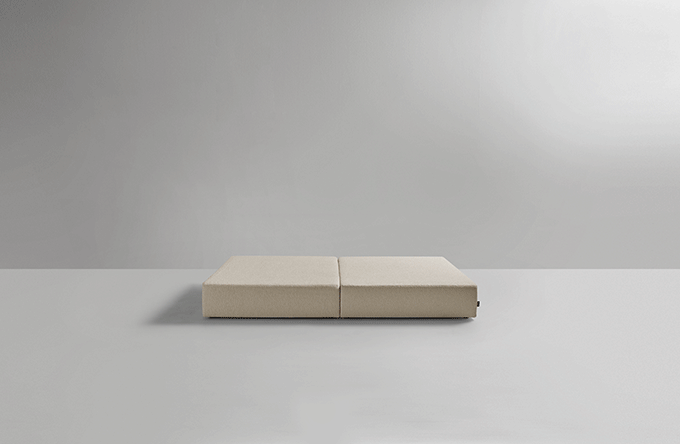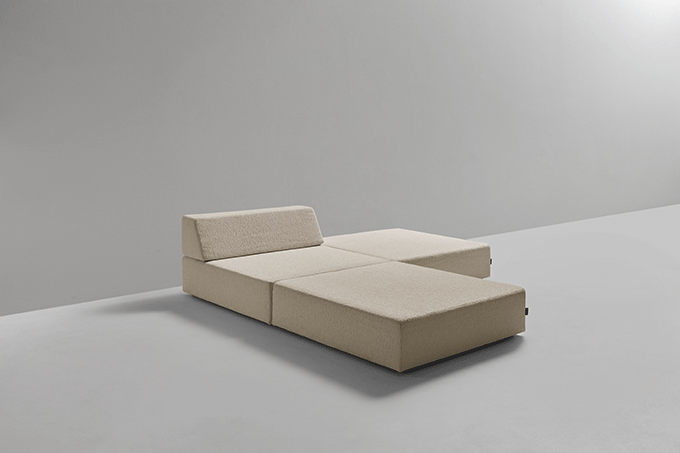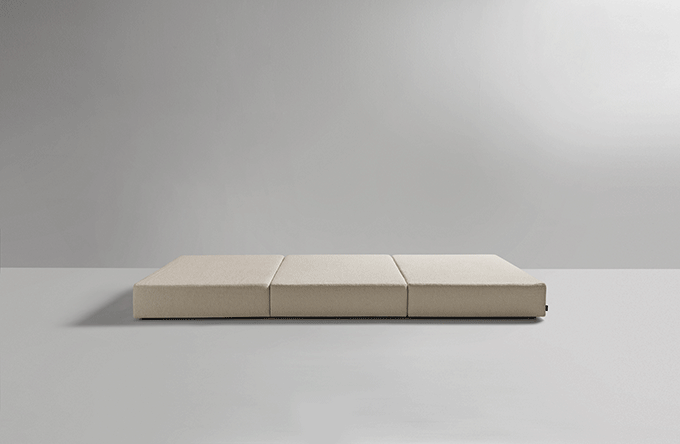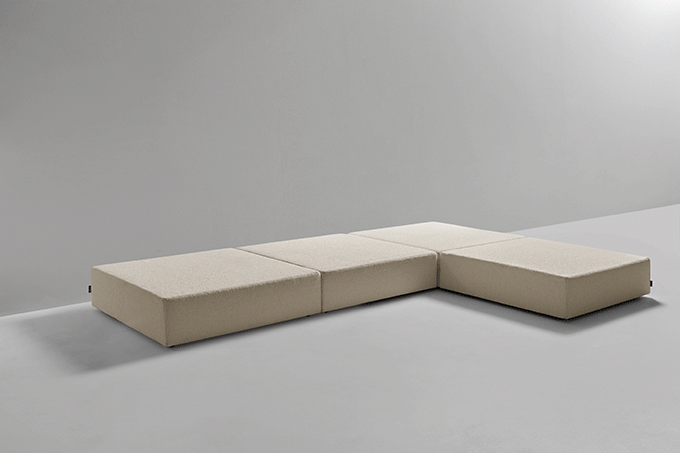 Teorema e' disponibile in molteplici varianti di pelli e tessuti, tutti di altissima qualita'. L'altezza della seduta e' di 32 cm ma con l'ausilio di ruote industriali opzionali, che aumentano ulteriormente la facilita' di spostamento, raggiunge la misura canonica di 42 cm. Informale ma elegante allo stesso tempo, morbido pur nelle linee dinamiche e spigolose, capace di inserirsi in piccoli ambienti caratterizzati da un arredo nomade e contemporaneo ma anche di dar vita a configurazioni ampie e articolate per case eleganti e ambienti importanti e lussuosi nei quali proporre una virtuosa contaminazione di stili.
...
Teorema is available in multiple variations of leathers and fabrics, all of the highest quality. The seat height is 32 cm, but with the aid of optional industrial casters, which further increase ease of movement, it reaches the standard height of 42 cm. Informal yet elegant at the same time, soft despite its dynamic and angular lines, capable of fitting into small environments characterized by nomadic and contemporary furniture but also capable of giving rise to large and articulated configurations for elegant homes and important and luxurious environments in which to propose a virtuous contamination of styles.