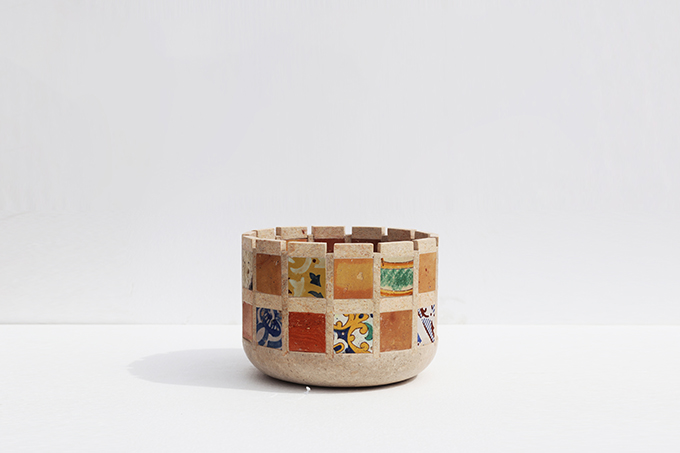 client
Marble Mosaique Deco /2020

La collezione Quadrati nasce dall'osservazione del tipico "punto tunisino", lavorazione tradizionale all'uncinetto; e' un ulteriore passo verso la produzione di oggetti in mosaico tridimensionale e in questo caso non e' presente alcun supporto su cui fissare le piastrelle in pietra e cotto. Quindi otteniamo il primo mosaico tridimensionale mai realizzato finora. I materiali utilizzati sono le pietre tunisine - marmo Kheddel Grigio della Tunisia - e il recupero della ceramica smaltata di fine Ottocento, in una logica legata all'elevato know-how, al recupero dei materiali e ad un nuovo linguaggio espressivo e produttivo per le arti decorative locali.

Artigiani, aziende, tradizione e innovazione per un prodotto contemporaneo; il progetto e' stato "realizzato" da due esperti internazionali: Laura Fiaschi e Gabriele Pardi, titolari dello studio di design italiano Gumdesign. Una serie di collezioni innovative per linguaggio e produzione sono state create da alcuni artigiani tunisini; un nuovo metodo progettuale per innovare in un settore legato alla tradizione romana. Questo progetto e' stato implementato dalla Banca Europea per la Ricostruzione e lo Sviluppo (BERS) e finanziato dall'Unione Europea nell'ambito del Programma di Sostegno alla Competitività dei Servizi (PACS)
The Quadrati collection was born from the observation of the typical "Tunisian stitch", traditional crochet work; it is a further step towards the production of three-dimensional mosaic objects and in this case there is no support on which to fix the stone and terracotta tiles. So we get the first three-dimensional mosaic ever made so far. The materials used are Tunisian stones - marble Kheddel Grigio della Tunisia - and the recovery of glazed ceramic from the end of the 19th century, in a logic linked to the high know-how, the recovery of materials and a new expressive and productive language for the local decorative arts.

Craftsmen, companies, tradition and innovation for contemporary product; the project was 'carried out' by two international experts: Laura Fiaschi and Gabriele Pardi, owners of the Italian design studio Gumdesign. A series of innovative collections for language and production have been created by certain Tunisian artisans; a new design method to innovate in a sector linked to the Roman tradition. This project has been implemented by the European Bank for Reconstruction and Development (EBRD) and funded by the European Union within the framework of the Programme of Support to the Competitiveness of Services (PACS) / Ce projet a ete' mene' par la Banque Europeenne pour la Reconstruction et le Developpement (BERD) et finance' par l'Union Europeenne dans le cadre du Programme d'Appui a' la Competitivite' des Services (PACS).
photo
Trip Contact

NB
I prezzi indicati sono escluso Iva, trasporto e imballo, pratica e dazi doganali